Rafal Olbinski
Mr. Olbinski is a prominent painter, illustrator and designer. Since 1985 he's been a professor at the School of Visual Arts in New York. One of his recent honors was to design in 2002 the stage settings for Philadelphia Opera Company's production of "Don Giovanni".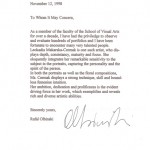 School of Visual Arts – Advertising and Graphic Design Department
November 12, 1998
To Whom It May Concern,
As a member of the faculty of the School of Visual Arts for over a decade, I have had the privilege to observe
and evaluate hundreds of portfolios and I have been fortunate to encounter many very talented people.
Leokadia Makarska-Cermak is one such artist, who displays depth, consistency, maturity and focus. She eloquently integrates her remarkable sensitivity to the subject in the portraits, capturing the personality and the spirit of the person.
In both the portraits as well as the floral compositions, Ms. Cermak displays a strong technique, skill and boundless feminine intuition. Her ambition, dedication and prolificness is the evident driving force in her work, which exemplifies and reveals rich and diverse artistic abilities.
Sincerely yours,
Rafal Olbinski